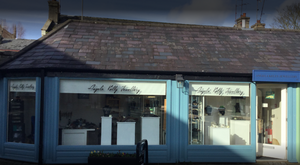 Contemporary Jewellery, Celtic Twist
Contemporary Jewellery, Celtic Twist
Angela at work in her studio
Unique, Handmade Jewellery
The Inspiration behind the Jewellery
Angela's diverse jewellery ranges are inspired by history, nature and the beautiful Irish landscape. Each piece is designed and handcrafted to create unique and elegant jewellery using Irish stone and sterling silver. The rocks, fossils and gemstones, collected through out Ireland, are transformed by Angela into jewellery often described as "little works of art". To find out more about Angela and the process of creating these beautiful pieces, see About Us.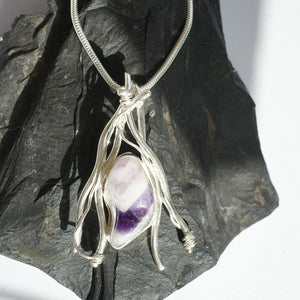 Bespoke Jewellery
Angela combines silver, gold and stone with ease to create individual and innovative pieces versatile enough to wear on any
occasion.
If you like her style, why not commission her to make you your own unique piece – perhaps using your own special stone.
Pictured is a recent commission incorporating a pretty amethyst stone of great sentimental value into a bespoke pendant which can be worn every day.
COMMISSION SOMETHING SPECIAL
For the man in your life
A beautiful gift handcrafted from ancient Irish stone and sterling silver. We have a range of beautiful cufflinks, or maybe a sterling silver and gold cross, or perhaps a bespoke ring?
SHOP FOR HIM